Chongqing CHUKE Intelligent Machinery Equipment CO.,Ltd via CHUKE International Technology Limited belong to CHUKE Group. It was founded in 2005, which is a laser technology application solutions provider, dedicated to providing laser processing solutions to customers worldwide.
The company has more than ten years of production research and development and export experience, combined with domestic and foreign advanced experience in intelligent equipment, the introduction of advanced equipment, we aspire to become a professional one-stop marking devices service provider.
Our main products are laser marking machine, pneumatic marking machine, electric marking machine, laser welding machine, laser cleaning machine, flying laser marking machine, customized machine and marking machine accessories etc; Pneumatic marking machine is our company's own research and development products, in the domestic production enterprises enjoy a high reputation.
Applications include automotive, aviation, electronics, pharmaceutical, industrial and other industries, many products and technologies have obtained national patents and software copyright, and CE and FDA approval.
In the future, CHUKE will continue to innovate and break new ground, and strive to become the application solutions leader in the intelligent, automation and digital laser fields.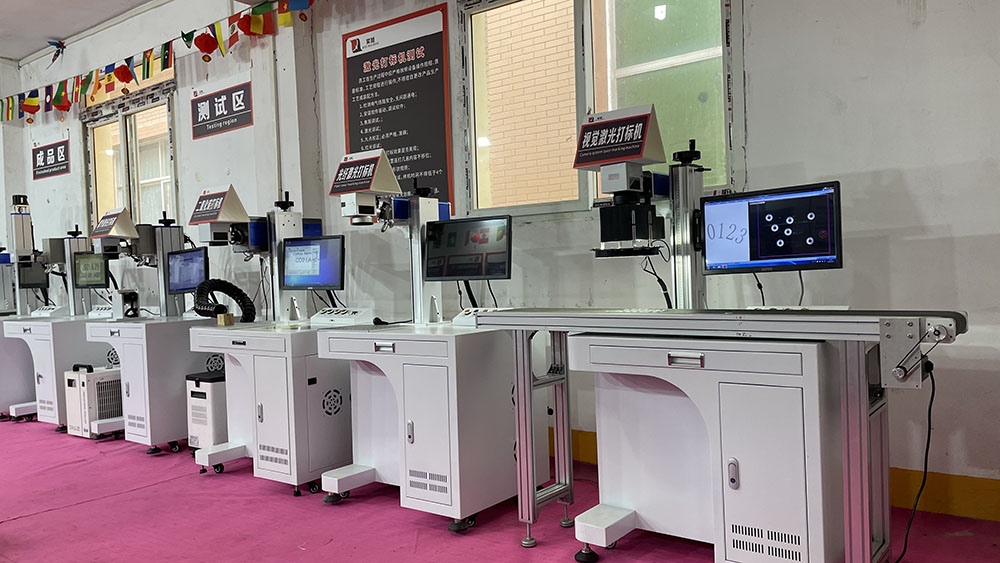 We can provide professional customized services for customers to meet their various marking requirements; Machine maintenance is guaranteed, the whole machine provides 2 years of maintenance period, the main components provide 1 year of maintenance period; There are professional and technical personnel before and after sales.
CHUKE fast delivery time, ordinary machine production time is 3-5 days; Custom machine 10-12 days. Respond quickly to customer's marking requirements. There is a special quality inspection department to ensure the quality of the machine.
Enterprise development course
-2005-

Starting : Chongqing CHUKE intelligent equipment co.,ltd is a relatively long history of the enterprise , before 2005 , specializing in the production way of marking pins, the introduction of marking machine technology from France , become China's first batch of marking machine accessories manufacturers.

-2006-

Struggle : Started in 2006 marking pins and marking machine accessories production , the success rate of marking needle reached 70%, the scrap rate of marking pins are far lower than other manufactures , slowly began to establish the marking machine production department and contacting Alibaba internet promotion platform.

-2008-

Metamorphose: With the popularity of automobiles, CHUKE seized the market opportunity to develop the first pneumatic marking machine in China for automotive products such as engines, VIN numbers, nameplates, etc

-2009-

Accumulation: Developed a group of fixed customers in 2009 with the increase of workshop workers and equipment . Started to form the R&D , began to develop the marking machine overseas market, exported to India, Malaysia and other Southeast Asian countries, India's earliest cooperation with ETCHON and other companies

-2012-

Endeavor : After years of historical precipitation, CHUKE has its own subsidiary and successfully settled in Chongqing FTA, started to participate in many exhibitions nationwide and around the world, and set up domestic and foreign trade teams and professional after-sales teams.

-2016-

Research and development : In the field of pneumatic marking machine innovation, research and development of gas cylinder marking machine.

-2018 -

Innovation: In 2008, CHUKE won many national patents and cooperated with large-sized companies such as Shaanxi Hande , Northwest Heavy Industry , Changan Industry , and Oriental Heavy Machinery , developed agency around the world and attened exhibitions in Pakistan , Thailand , India , Czech Republic , Mrocco etc.
2005
2006
2008
2009
2012
2016
2018
2022

Have many patent certificates.

Extensive experience in OEM and ODM services.

CE, FDA, ISO 9001 and BSCI etc.

The whole machine 2 years warranty period, 1 year main parts maintenance period.

Regularly provide technical information and technical training support.

100% mass production aging test, 100% material inspection, 100% functional test.

R&D team includes electronic engineer, structural engineer and appearance designer.

Advanced automatic production equipment workshop, including semi-finished product workshop (needle processing, mold, etc.), production and assembly workshop, finished product workshop.
CHUKE is an established supplier of laser marking machines. Our laser marking machines are equipped with high quality and provide high quality service to mainland manufacturers in western China, and have won a good reputation abroad. Our main goal is to solve the marking problem for customers, so that there is no marking problem Don't hesitate to get in touch with us for your laser marking machines. Our equipment is reliable and will not let you down.